As an introduction, this section on the official Revelations site takes a look at many different aspects linked in with the series "Revelations – The Initial Journey".
The first proper Feature Report will be live from around 10th October, so please come back to this section then to "read all about it".
In the meantime, here's a quick tour and sneak peak as to what you can expect to check out over the next few months in the Features section…
BEHIND THE SCENES – In Features, you'll be given an insight into all the behind the scenes activity that goes into making the series. There's going to be some exclusive photos and interview material with members of cast as well as some of the Cloud 9 team who are involved in the series. Find out about acting… scripts… directing… producing… all aspects of making a series. It's quite a journey…
STYLE – Another aspect Features checks out is the huge range of style and costumes in the series. From our sister website, www.tribeworld.com, we know there is a lot of interest in the wardrobe, fashion, hair and make-up of a programme. Revelations the series has such a massive range of styles from 450 B.C. right up to the modern day in 26 different environments and settings. You'll be able to check out the different styles from the series and each historical period.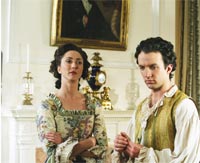 MUSIC – There'll be some articles and information about the unique music that is used in the series, Revelations. Unlike most television programmes, Revelations actually has a full cinematic score of orchestrated music performed by the New Zealand Symphony Orchestra. The music has a rich, multi-layered sound to it – we love it! There are also some ethereal choral pieces – and the end title track. There'll be pictures and information about the music right here – in Features.

SPECIAL MOMENTS – How do you re-enact a battle from the Boer War? How do you bring to life the French Revolution and Madame Guillotine? Or a Maya village from Central America in the 1580s? Or an American village in 1692, Salem?
Features will take a look at some special moments from the series – including stunts, special sets and backgrounds constructed. This is partly a "behind the scenes" look but also will look at the real life historical equivalents that are re-enacted in the series.
COMPARISONS – There was an intensive amount of research and investigation into the different time periods represented in the series to ensure an accurate portrayal on screen. Features will make comparisons between time periods in the series – and the real life time periods, to show what characters, events and lifestyles really occurred in real life. How accurate is "Revelations – the series" in its portrayal of 1959 Rock n'roll – or what comparison is there between on-screen 1888 Gold Rush and the real life Gold Rush? You'll be able to find out here and maybe learn a few things on the way…
Coming soon – the first of many special feature articles – right here, in the FEATURES section…