Feature – Afternoon Tea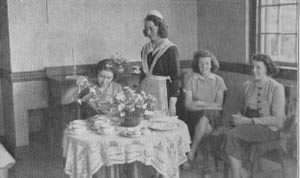 Hmm, warm scones, homemade jam, clotted cream, cucumber sandwiches and a piping hot cup of tea served in a china cup…
Few could resist such a tempting sight as a traditional afternoon tea.
There are many that claim to produce the finest afternoon tea. Devonshire cream teas (or cheap imitations thereof) can be found in all Four Corners of the world. Indeed, the quality of an afternoon tea is as varied as the weather.
Arguably the finest and most traditional afternoon teas can be found in the UK. After all, this was where it all started. But there are definitely some great places around the world where a fine example of this wonderful feast can be found.
In the 1800's, high society days were structured with a good breakfast, light luncheon and large dinner served late in the evening (often starting as late as 9pm). Anna, Duchess of Bedford thought a gap between meals was far too long for ladies.
She asked her butler to bring her up some bread and butter with a pot of tea at 5pm while she was getting prepared for dinner (in those days people used to dress up in the evenings).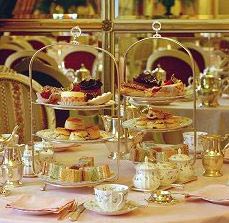 This caught on with her friends and soon, the Duchess was enjoying tea parties regularly in friends' houses.
As with most things, afternoon tea took on a life of it's own and ladies took great pride in serving their tea from the very best china, painted with dainty flowers, using little tongs to lift the sugar lumps with and special tea gowns worn for the occasion. Oh, and don't forget the tea strainer, these ladies would not have appreciated bits of tealeaves stuck between their teeth.
Actually, tea was a valuable commodity and often the tealeaves were kept under lock and key!
To enhance the social standing of the lady of the house, there was a particular etiquette involved in holding an afternoon tea gathering at one's home.
The lady of the house would sit at the head of the table and be the only one permitted to actually serve the pot of tea. The oldest daughter would serve the coffee or hot chocolate. The hostess would then add milk and sugar for her guests.
In homes of wealth however, the servants served the tea and added the milk and sugar. This was the ultimate demonstration of money and power as if the lady of the house did not feel the urge to manage the tea herself and trusted it to her servants; it showed that she must be a very rich lady indeed, not to care about wastage!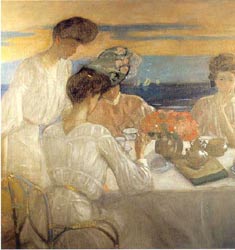 Afternoon tea gathered such momentum that the first UK tearoom was opened by the Aerated Bread Company in London in 1864.
The most famous of all tearooms was owned by Joe Lyons. It was opened in 1864 in Piccadilly, London and frequented by unchaperoned ladies, glad of a place to meet and gossip about fashion (and all the other things that young ladies like to gossip about) without fear of her reputation being ruined. It was deemed quite acceptable to 'take tea' unchaperoned, even in the company of a young man.
Tea dances became all the rage and provided a nice environment for young men and ladies to dance together as well as to enjoy conversation – and a nice slice of cake.
Tearooms sprang up all over the UK and were accessible to the working class women too. In fact, the working class developed an afternoon tea of their own – perhaps more of a 'supper'.
This included a spread of bread with various spreads (sweet and savoury) as well as cold meats and pickles, cold salads and cheeses, which served as a main meal rather than a 'tea' as such but was served late afternoon with a pot of tea.
This was perhaps due to the fact that the working class had to eat earlier than the rich as they had to get up earlier in the morning and wouldn't stay up for a 9pm dinner.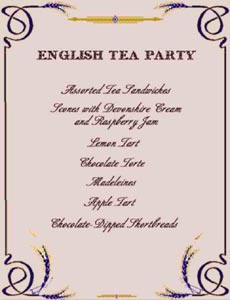 The working class spread was served at the 'high table', as it was a meal rather than the 'low tables' favoured in the Victorian parlours of the wealthy. This could signify the difference between a 'high tea' (which now often includes savouries as well as cakes) and traditional afternoon tea…
Traditional afternoon tea is served as follows: – Crustless cucumber sandwiches, warm scones with homemade preserves and Devonshire clotted cream, delicate biscuits and perhaps a slice of fruit cake or sponge. And of course, a pot of loose leaf Lapsang Souchong, Darjeeling, Orange Pekoe tea, served from a silver or china pot into dainty china cups.
Variations of afternoon tea can now be found all over the world and differ from café to café. It can be as simple as a toasted tea cake with butter dripping over the sides to a 3 tiered platter of scrumptious delicacies including smoked salmon and caviar!
Many top London hotels (indeed luxury hotels in such countries as Hawaii, Singapore, Japan and India for example) offer afternoon tea from 3-5pm. Often accompanied by light music in the background, a proper afternoon tea can still be the very best time to meet with friends and exchange gossip whilst enjoying the dainty delicacies on offer.
Thanks Duchess of Bedford! We're just glad that the tradition has evolved from plain old bread and butter!

Join us soon for another Feature.