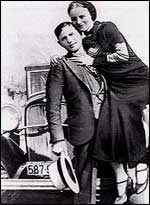 Feature – Bonnie and Clyde
Throughout time there have been criminals that have captured public interest and attention with amazing intensity due to the horrific nature of their crimes. These criminals have had the ability to frighten and astound us and yet make us very curious at the same time. Their legacy sometimes goes 'down in history' and remains talked about for many years to come. The story of Bonnie and Clyde is one of those…
Bonnie Parker was born in Texas in October 1910. She was the daughter of two poor but hard working labourers. Bonnie worked hard at school, showing a flair for writing and the arts. After Bonnie's father died at a young age, Bonnie and her mother moved to a small town just outside Dallas to be closer to family. Bonnie married at the age of 16, but her husband proved to be immature and destined for prison. He was jailed just one year after they married.
Clyde Barrow was also born in Texas, in March 1909. He was also from a poor family – his parents worked on a cotton field trying to scratch together a living for Clyde and his numerous brothers and sisters. When Clyde was a young boy, the family also moved to a small town outside of Texas where his father ran a service station for the remainder of his working life. Clyde's life of crime started early – he was arrested for automobile theft at a young age and was linked to numerous robberies in the late 1920s.
Bonnie and Clyde met in 1930, and quickly formed a close attachment based upon mutual sympathy and understanding of coming from poor and hard-to-do families. Bonnie and Clyde had met during the Great Depression, when times were tough for all Americans; history showing that the country's money had declined by 38%. It was a time when men, hungry and thin, roamed the city streets seeking jobs, breadlines and soup kitchens became jammed.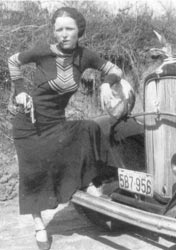 These hard times forced nearly forty percent of farmers from their lands to look for better work, and to add to the hardship a catastrophic drought struck the Great Plains, destroying what many had worked so hard to achieve. The Depression era is home to a number of well-known gangsters and robbers, who used their crime as an easy way to get money, and Bonnie and Clyde fit well into this category. In 1932 they started a crime spree that would capture the public's horrified attention and outwit law enforcement authorities for two years.
Together with an accomplice, Raymond Hamilton, Bonnie and Clyde began a series of well planed hold-ups at banks and shops across America and made national headlines for their willingness to shoot and murder anyone who got in their way – including law officials. Raymond Hamilton didn't last very long with the pair – being caught and jailed after an early robbery.
In early 1933, Bonnie and Clyde were joined by Clyde's brother Buck and his wife Blanche. They travelled together as friends and rented a garage in Missouri to use as a hideout. Following a tip-off from neighbours in April 1933 the police raided the hideout which caused a shootout that left two police officers dead and law enforcement agencies embarrassed that Bonnie and Clyde and their gang had managed to outwit and outshoot them again. The gang escaped, but left behind a roll of film from which many of the famous photos of the pair come from.
For the remainder of their criminal careers, Bonnie and Clyde were constantly on the move, committing one robbery after another and continuing to remain two steps ahead of the law. Later in 1933 the police again caught up with the gang and this time managed to shoot and kill Buck Barrow and take his wife Blanche into custody. Bonnie and Clyde, however, escaped yet again.
In January 1934, Bonnie and Clyde daringly attacked Texas Prison with machine guns (killing a prison guard and wounding several others) in order to free their previous accomplice Raymond Hamilton and his friend Henry Methvin. The gang then started yet another robbery spree in Indiana. Raymond Hamilton later split from the gang after an argument with Clyde.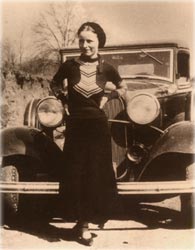 By this stage the pressure was very much on the law to put an end to the gruesome rampage. The F.B.I tracked Bonnie and Clyde to an address in Louisiana. In a well-planned roadside ambush on May 24, 1933 Bonnie and Clyde were killed in a frenzied attack on their car as they drove by. Despite having machine guns at the ready, Bonnie and Clyde were never given time to draw their weapons as their car was pelted with 167 shots. The leader of the raid, Texas Ranger Frank Hamer, was considered a hero. The bodies of Bonnie and Clyde went on display in Dallas, in response to the public's morbid curiosity, and were later buried in separate cemeteries… a symbolic attempt to keep the dangerous duo apart forever.
During their killing spree, Bonnie and Clyde terrorised five American states – Texas, Oklahoma, Missouri, New Mexico and Louisiana – and had killed 18 innocent people who had got in their way.
They showed little remorse or social conscience for what they had done and justified their actions as a result of the hard times they were under. They had, however, remained loyally devoted to one another – films found and developed showed not only dramatic gun wielding poses, but also pictures of the duo embracing and cuddling, looking adventurous and deeply in love.
Immortalised in numerous books and movies, it is little wonder the pair went down in history as notoriously as they did.
Join us soon for another Feature.