Feature – Christmas History
Traditions from countries all around the world since time began have shaped what Christmas is for us today. Take a look at the following questions and see if you know where traditions first started and the answers to other such christmas trivia.
Test your Christmas knowledge!
1. The Christmas season begins at :-
Midday, December 1st
Sundown December 24th
Midnight December 12th
Sunrise December 25th
2. The Partridge in a pear tree is mean to resemble:-
Santa Claus
Christ
The Angel Gabriel
The spirit of Christmas
3. In the British armed forces it is tradition that:-
The officers wait on the men and serve them Christmas dinner
The officers dress up as women and put on a cabaret
The officers perform the Highland Fling as the turkey is ceremoniously brought out.
The officers pull a huge Christmas cracker in a tug of war fashion.
4. In Syria Christmas gifts are given out by:
Santa Claus
The imp Indigo
A camel
The Three Kings
5. The tradition of Christmas carolling began in :-
Ireland
England
Scotland
Wales
6. And was called:-
Strifing
Hogmansun
Aucteringles
Wassailing
7. Other names considered for Tiny Tim in Dickens' A Christmas Carol were:-
Little Larry
Puny Pete
Small Sam.
Teeny Tom
8. Average American Households mail out this many Christmas cards:-
74
28
19
10
9. Eastern Europe was permitted to celebrate Christmas for the first time in decades in the year:-
2000
1989
1974
1927
10. Postmen in Victorian England were called:-
Robins
Posties
Parcelmen
Carriers
11. The poinsetta was originally brought to America from:
Papua New Guinea
Australia
Mexico
Canada
12. The traditional flaming Christmas pudding dates back to :-
1670
1374
1926
1800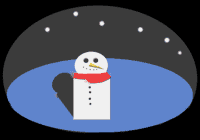 13. The first printed reference to Christmas trees was in:-
Germany in 1531
Canada in 1874
Finland in 1795
Austria in 1831
14. The first British monarch to broadcast a Christmas message was:-
Queen Elizabeth II
King Henry VIII
Queen Victoria
King George V
15. Victorian tradition was that mince pies had to be eaten for the 12 days of Christmas because:
That would ensure that the following 12 months would be good for you
The 12 spirits of Christmas would provide 12 wishes for you
The turkey would be nice and plump
That Father Christmas would provide you with plenty of gifts.
16. The first charity Christmas card was produced by UNICEF in 1949. It showed a picture of:-
Santa Claus and his elves
A Christmas tree surrounded by presents
Children dancing round a maypole
Children surrounding baby Jesus
17. The gift-giver that later became known as Santa Claus was 'discovered' and brought to the USA by:-
The Mexicans
The British
The Austrians
The Dutch
18. Jesus Christ son of Mary was born in:-
A stable
A tree
A cave
A barn
19. In Finland and Sweden an old tradition carries on, where the twelve days of Christmas are declared to be:
A time of fasting
A time of remembrance
A time of gifts
A time of civil peace
20. In Armenia the traditional Christmas Eve dinner is:-
Mince, dumplings and cabbage
Fried fish, lettuce and spinach
Christmas cake with cream
Fried bacon with beetroot