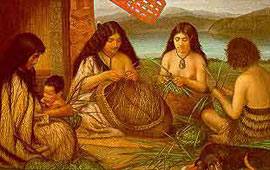 Feature – Raranga ~ Maori Weaving
There is so much more to Maori weaving than simply creating a beautiful work of art or an article of decorative clothing.
Polynesian culture is a spiritual one and there is a belief that an artist is a vehicle for the gods. The artist expresses the feelings and thoughts of the gods and the product of the artist's work is therefore a sacred one. Art is linked and inter-related to all that is sacred and spiritual.
The Maori have many symbols and meanings hidden within their art and these are very definite in woven articles.
Hutia te rito
Hutia te rito o te harakeke
Kei hea te komako e ko
He aha te mea nui I te ao
Maku e ki atu e
He Tangata He Tangata
He Tangata Hei
The beautiful song above is a traditional one that Maori weavers used to sing (and many still do today) as they created their sacred art. Translated it means ~
If the centre of the flax is pulled out
The flax will die leaving no place for the bellbird to sing
Although these conservation factors are important,
If I was to ask myself what is one of the most important things in the world?
I would answer –
It is that person, that person, that person
That is, it is each and every person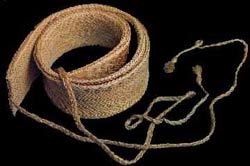 There are several techniques that have been passed through the ages but raranga is the one that has survived colonisation. It has strong links with both Asian and Pacific Island weaving.
The Maori believe that the past is also the future and the present and is an eternal circle. Raranga (or the art of weaving) has been passed down from the ancestors to the people living today and it is a living symbol that has survived for many generations.
The spirit of raranga evokes feelings of spirituality, of togetherness and of unity. The art of weaving is not only sacred but it literally weaves together all the people of the tribes and their ancestors, ensuring that the tribes remain strong and that memories are kept alive.
Weaving aids the physical and mental abilities of the craftsmen and the preparation of the necessary materials is a test of both patience and determination. There are many natural materials found in the New Zealand bush that are used for weaving. The main material is flax or Harakeke (Phormium tenax) and the fibre of the plant is made into a soft and durable fabric known as Muka.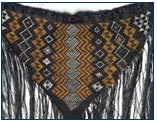 Other materials used include fibre from the houhere tree bark (hoheria populnea), the kiekie shrub (freycinetia baueriana) and the pingao (demoschoenus spiralis) and kakaho (cortaderia toetoe).
These materials are used to make some beautiful garments and basketry as well as mats, wall panels and feathered cloaks. Traditional weaving utilises black, white and golden colours found naturally in the kiekie and pingao shrubs and grasses but other colours are now widely used following the introduction of chemical dyes.
As well as floormats and wall hangings there are many traditional garments and baskets that are made and used in everyday life.
Maro is a triangle shaped garment, almost like an apron and it is worn around the waist. Made from flax fibre (muka) and decorated with feathers, this is a stunning garment.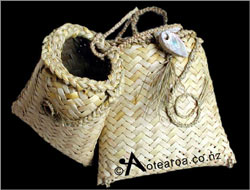 Piupiu is a garment made of flax that has been plaited or woven onto a band. It is a skirt that rustles and moves and the word piupiu actually means oscillate (to swing with a rhythmic movement).
Hieke and Tureke are capes that look thatched. They are actually rain capes and do work well.
Kete Harakeke is a flax basket, which can be used as a bag or as a decorative piece of art. The kete is known as a container of knowledge and wisdom. There is ancient symbolism in the kete, which is reflected in the story of Tane-te-Wananga who obtained three kete for all mankind. These kete of knowledge were obtained from the supreme spiritual power, Io.
Many traditional garments can still be seen today if a tourist visits a cultural group. Indeed woven Maori garments are a popular part of New Zealand life and many Pakeha (Europeans), Pacific Islanders and other New Zealanders can also be seen carrying kete instead of a handbag or wearing maro over a dress in the evening.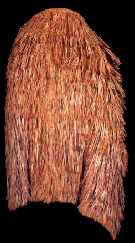 One garment that is especially sacred to the Maori is the feathered cloak or Kahu Kiwi. These are treasured heirlooms and passed down through the generations. Chiefs and elders are usually the wearers of these feather cloaks but they can also be made for family members or those who the tribe wish to honour.
Feather cloaks take many months to prepare and weave and it tends to be the older women of the tribe who make them. These women are very experienced and as they are free from children and other responsibilities can offer the time and patience required to attend to such an important task.
The time, intentions, love and emotions that go into a cloak make the item a significant part of the tribe and these cloaks become known as Taonga, an heirloom of elemental and spiritual value.
Raranga is alive and well in New Zealand today and is being taught both privately and at university level throughout the country as well as being passed on first hand from the older generations.
Join us soon for another Feature.