Feature – Marilyn Monroe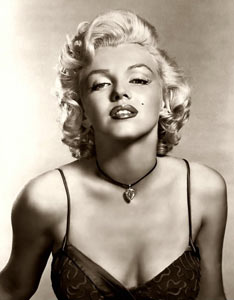 These days there is much pressure on Hollywood stars to be the media's definition of beautiful – namely slim and toned. This media 'definition' of beautiful can have a devastating affect on young men and women around the world who struggle to fit into the 'beautiful zone'.
But, believe it or not, there was a time when Hollywood held a welcome place for the naturally curvaceous… and from that time comes one of the most loved actresses of all time… But the story of Marilyn Monroe proves that success and fan adoration is often not enough to make a person happy.
Marilyn Monroe's is a tragic story. Born as Norma Jeane Mortenson on June 1, 1926 in Los Angeles, her mother, Gladys, suffered mental instability. Norma Jeane was placed in the foster home where she lived the first 7 years of her life, brought up in a very strict and harsh lifestyle. In 1933 Norma Jeane returned to live with her birth mother, but was later looked after by a family friend, Grace McKee, after her mother was institutionalised. Grace built up Norma Jeane's shattered confidence, telling her that she would grow into a beautiful movie star…
While working in a factory inspecting parachutes in 1944, Maryilyn was photographed by the Army as a promotion to show women on the assembly line contributing to the war effort. One of the photographers, David Conover, asked to take further pictures of her. By spring of 1945, she was quickly becoming known as a photographers dream and had appeared on 33 covers of national magazines. She was not a tall girl, and had developed a curvaceous figure and the public was falling in love with her…
On July 23, 1946 she signed a contract with Twentieth Century-Fox Studios and began her transformation into a movie star named Marilyn Monroe. Over the next few years she had only some minor movie parts. In 1949, Marilyn agreed to pose nude for a calendar, a fact that was to stir controversy later in her career as a superstar.
Her first serious acting job came in 1950 when she had a small but crucial role in "The Asphalt Jungle" and received favourable reviews. She followed this up with some other minor parts that the critics seemed to love Monroe's first leading part in a serious feature was to be in "Don't Bother to Knock", also filmed in 1952. In 1952 Marilyn began filming "Niagara", a film that was to establish her stardom. After her next big film, "Gentlemen Prefer Blondes", she signed her name and placed her hands and feet in the wet cement in front of the Chinese Theatre on Hollywood Boulevard This was the same place she had visited with Grace years earlier as a child, and the place that had been responsible for her dreams…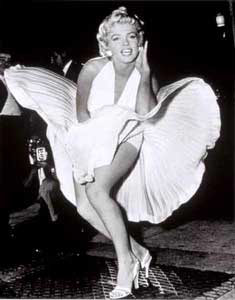 However, Marilyn was already deeply insecure about her abilities and her failed relationships. She turned to sleeping pills to help ease her pain and began a sad cycle despite being loved and admired as both an actress and a sex symbol around the world. Marilyn began showing serious side effects of the many sleeping pills she had been taking for the last few years…often groggy, lethargic and crying on the set.
The famous "skirt blowing" scene from the "Seven Year Itch", filmed in 1954 was to be a hit with both amateur and professional photographers. Several hundred, along with 2000 spectators gathered in New York City to see her as she posed for over two hours for her adoring fans. Her image, and figure, was much envied and thousands of girls around the world tried to imitate her famous looks.
Marilyn first married Jim Dougherty when she was very young. She made a second marriage to baseball player Joe DiMaggio, then to writer Arthur Miller. She was romantically involved at one time or another to Marlon Brando, Frank Sinatra, Yves Montand and director Elia Kazan. She was said to be intimate with President John F. Kennedy, starting sometime in the 1950s. This secret affair was subject to great scrutiny after her controversially provocative singing of "Happy Birthday, Mr President" on national T.V. She was then romantically linked to JFK's brother, Robert Kennedy, in the early 1960's and many reports state that he soon shared her favours.
However, both brothers cut her off and she was told to not contact either of them again. She slumped into a deep depression, proving that stardom was not enough for a girl looking for true love.
The gossip continued for years that she was intimate with both Kennedy men and that they were involved in her death. She possessed handwritten notes from Robert and had kept a diary. She was privy to numerous secrets about the Kennedy's and their underworld connections.
Moreover, she was unstable and might talk at any time. A world-famed celebrity, the actress had the power to do incalculable damage to the Kennedy image.
Monroe died of a drug overdose in Hollywood in August 1962. She was found in her bed, nude, with a telephone in her hand after her housekeeper called the police. Her diary and personal notes were never found, which added to the speculation around her death.
Since Marilyn Monroe graced our screens she has continued to be the topic of much discussion, has steadily had numerous fan clubs, has look-alikes earning a living from her image and has even had songs written about her! But her story is indeed a tragic one and goes to show that fame does not always equate to happiness.

Join us soon for another Feature.