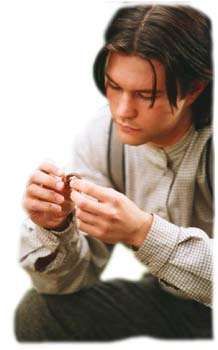 A quick Interview with Caleb Ross (Samuel in The Runaway)
Q – How was it working on another show with the same crew?
A – Quite fun, it makes it a bit easier because there are no teething problems
Q – How did you enjoy the juggling?
A – I could juggle a little anyway, but I was asked to juggle six for the show! There was no way I was going to learn that in a couple of weeks, but I did training at home and with a juggling expert to get a few tricks down. I've actually carried on juggling since as well.
Q – How did you feel getting your hair cut? And what did you think of the period style?
A – It was the shortest I'd had it for a while, at first I didn't like it, but I got used to it. As for the style? Well… at least I didn't have the moustache.
Q – Would you ever run off and join a circus?
A – Well I think the lifestyle would be fun for a while….. lots of travelling, heaps of interesting people, but I think I'd get sick of it eventually, besides I'm having enough fun as it is and I don't need to run off anywhere!