Life Issues – Ann Boleyn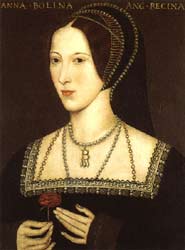 Bewitched or just hit by Cupid's arrow, King Henry VIII was certainly enamoured with the beautiful Ann Boleyn. She is perhaps one of the most recognised of women in England's history books but there is not much actually known about her early years, which no doubt adds to the intrigue and mystery that surrounds her.
Allegedly with a sixth finger on one hand and said to have a large mole or goitre on her neck, Ann Boleyn caught the attention of the British public when she gained the love of the King. Some records say that Ann was very beautiful whilst some say that she was just averagely pretty and it is certainly difficult to tell from the various pictures that have been made of her.
In the 16th Century, Ann could have been considered to be beautiful as she was so different to the typical English rose of the day. Most English girls were pale and blue-eyed with blonde hair but Ann had dark brown hair, deep dark eyes and olive skin. Ann was of average height, had an elegant long neck and had a slim figure but it seems that it was her eyes that gained the most attention.
Historians place Ann's birth date as being between 1501 and 1507 and she was most likely born in Blickling Hall in Norfolk. Ann's father was a courtier with a talent for languages and was eager to progress in the circles of the court.
Sir Thomas Boleyn married well and his wife, Elizabeth Howard was the daughter of the second Duke of Norfolk and the sister of the third duke. Thomas and Elizabeth had two other children, Mary and George and the three Boleyn children were close in age though no one really knows when they were born.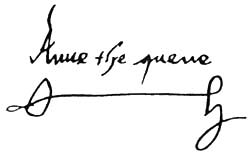 As was the custom in those times, Ann was sent to France to spend some time at court. At the age of around 13 years, Ann was a 'fille d'honneur' at the court of Archduchess Margaret. From this court, Ann became a lady in waiting to the young princess Mary, the younger sister of King Henry VIII.
Mary Tudor had been sent to France to marry the aged King Louis XII of France. Ann's sister Mary was already a lady in waiting to Princess Mary Tudor so the sisters were reunited and spent a happy time in France together.
But the old King Louis soon died and both Mary's returned home to England whilst Ann stayed behind. Ann was then educated by the new French Queen Claude and developed fashion and flirtation skills unique to the French. Ann also developed her educational knowledge as well as her musical, singing and dancing skills. Ann returned home to England in 1522 when war between England and France was imminent.
Ann's own marriage details were being worked out by her parents and in the meantime she was sent to the royal court to attend Queen Catherine to join her sister Mary. Mary had already gained the attentions of King Henry VIII and it is possible that he had enjoyed an affair with her. Affairs were commonplace in this era as most people had married for position rather than love.
Ann is said to have enjoyed many flirtations at court and when her marriage to the heir of Ormonde fell through she enjoyed many more. She earned a bad reputation amongst the courtiers and she earned the disproval of Cardinal Wolsey.
It is uncertain as to when Henry VIII first noticed Ann but it is clear that they began a friendship with the King being smitten by Ann and her beauty. In 1527 Henry made moves to annul his marriage to Catherine and Ann was given luxury apartments near those of the King himself.
The people of England did not like Ann. They were loyal to Catherine and did not approve of the religious reform ideas that Ann had introduced to the King. The annulment of the marriage between Henry and Catherine was taking some time to come through and during this time Ann was showered with gifts from the King and he spent more and more time with her.
Ann was given the title of Marquess of Pembroke, which meant that she held a place of honour at meetings.
At the end of 1532, Ann fell pregnant and this forced Henry to make a decision about his marriage to Catherine. Rather than wait for the annulment, Henry married Ann in secret and his marriage to Catherine was declared invalid by the Archbishop.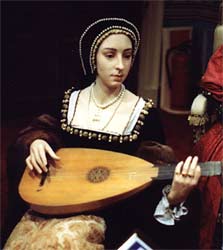 Ann was crowned Queen of England on 1st June 1532 and in August she started to prepare for the birth of her child which Henry was sure would be a boy. Disappointment met the birth of Princess Elizabeth on September 7th and Ann knew that to keep the attentions of the King and her place in society that she give him a son. She became pregnant quickly once again but lost the child and then lost another to miscarriage in 1535.
The King was still in love with Ann and they enjoyed parenting the young Elizabeth together. The little Princess was named heir to the throne before Henry's other daughter from his marriage to Catherine, Mary (who was to become known as Mary of Scotland).
As time went on however, Ann became upset as she noticed that the King had taken a fancy to another lady in waiting, Jane Seymour. Ann also had many enemies in court who were keen to make the most of any gossip surrounding her and the King was soon set against his wife, believing that she herself had been conducting affairs with other men, including her brother George.
Ann Boleyn was arrested on May 2nd 1536 and taken by barge to the Tower of London. She was charged with adultery on May 15th alongside her brother and whilst both denied the accusations, they were condemned to death before an audience of around 2000 people. Ann was also charged with witchcraft.
May 17th saw George Boleyn executed on Tower Hill and the other four men charged with adultery were beheaded at the Tower.
Ann became hysterical, knowing of her fate but she was assured that she would be beheaded with a sword rathe than an axe. She said, "I have heard that the executioner is very good. And I have a little neck."
Ann prayed for exile and to end her days in a nunnery. She kept hope right up until the end but at 8 am on 19 May 1536, Ann was brought to the scaffold and was publicly executed. She was dignified all the way through the ceremony and knelt at the block blindfolded, her last words being, "To Jesus Christ I commend my soul; Lord Jesus receive my soul."
Ann's body was buried under a plain slab in a Norfolk church.
King Henry VIII married Jane Seymour just ten days after Ann's execution.
Princess Elizabeth went on to become Queen Elizabeth 1 of England.
Join us soon for another Life Issues.