Life Issues – Getting Dressed for Court – 1575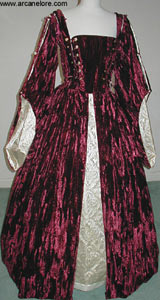 My name is Ann and I am a noblewoman at the court of Queen Elizabeth I. I am a minor noblewoman but a noblewoman all the same and as such I must dress in a way to please my Majesty the Queen.
The French style of dress is popular at the moment and I have decided to wear my new French gown, made with materials my aunt sent me.
My dressing maid, Jane, will help me put on all the layers I must wear. I have already washed my face and hands and am ready to step into my shift. My shift will help protect my beautiful gown from sweat and body odour. We do not bathe very often and I do not wish my outer clothes to smell.
My maid chooses a pair of silk hose for me to put on. These are one of my expensive pairs of hose and fit just below the knee, held up with a garter. If I were not going to court today I would wear one of my other pairs of everyday hose, made from wool to keep me warm.
I am lucky that I am slim for I do not need to wear a corset, which would normally be put on at this stage. My poor mother has to be tied into a corset, which is stiff with whalebone. How she breathes I do not know – and often we have to bring her around with the vapours as she faints through struggling to breathe.
My gown has some bones sewn in to the front to give me a flat front line that is de rigeur in the French gown.
Next, Jane puts my verdingal over my head. This is my hooped skirt, which is tied at my side with ribbon. The verdingal is stiff with whalebone and made of red taffeta. Another term used for a verdingal is a Spanish farthingale. My other farthingales are stiffened with rope as this gives a smooth line under some of my gowns.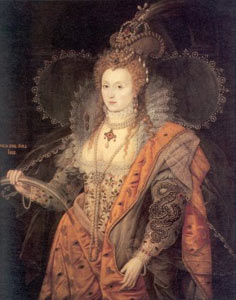 My hips need to be padded out a little more to allow my skirt to stand out better. Jane ties my roulle around my hips. This crescent shape padding will work with the batting and stiffened buckram that is sewn into my gown and make the pleats spring out beautifully. I will have a tiny waist and large skirt.
I will not wear a petticoat as my gown is split slightly at the front and I do not want to show a lacy petticoat. Rather a nice piece of material. My kirtle skirt with a beautiful forepart (which will show through the part in my gown) is placed over my head.
Next, a white shirt with a low neck and pouffy sleeves. Jane then helps me into my gown and ties it tightly at the front. My skirts are arranged and my shirt is tucked in to the neckline of the gown – as I am single, my gown is low cut and my bosom bare. Married women wear high collared shirts under their gowns. I slip on my leather shoes (some of my shoes are velvet) and sit at my mirror.
I am lucky to have red hair like my Queen. Many ladies at court have taken to wearing red hairpieces as red is all the fashion now in honour of Good Queen Bess.
Jane spreads a cape over my shoulders to cover my gown and starts to brush my hair. My hair is very oily as I rarely wash it and when I do, very rarely use soap. My hairbrush is made from bone. The front of my hair is divided into two poufs and a small amount of hairpieces are added to give it more volume. The rest of my hair is braided and sewn with hair tape around the back of my head to keep it in place. It would not do to have my hair a mess in court. To make doubly sure that my braid will not escape, a cawl bag is put over the braid.
It is time to put some make-up on – all the ladies wear it at court and I like to wear the white lead foundation (alabaster skin is considered to be the ultimate in beauty as there is so much smallpox around at the moment). This is applied to my face, neck and bosom and then some red ceruse (vermilion) is put on my cheeks and lips. My eyebrows have already been plucked into high arches and this gives me a perfect high forehead. Kohl is painted around my eyes to make them appear to be wider and then a few drops of belladonna in each eye to make them glisten and appear healthy.
My teeth are good unlike those of many at court. A lot of people have black teeth or no teeth at all. One of my teeth has started to go black but it is at the back of my mouth.
My make-up and hair complete, it is time to place my hat on my head and it is attached with a gold hatpin. Next, my jewellery. Ladies at court wear much jewellery and I place some rings on my fingers and a long gold chain round my neck as well as a jewelled choker of garnets, diamonds and emeralds. Jane decorates the hair that can be seen from under my hat with some pearl tipped bodkins.
My safeguard is placed over my gown. It is a protective skirt, worn until I arrive at court for I do not wish to get splatters of mud on the delicate French gown. I also wear a cape over my shoulders.
I am ready for my day at court and my horse is waiting so I must now depart, leaving Jane to prepare my clothes for tomorrow.
Join us soon for another Life Issues.