Life Issues – Katherine Hepburn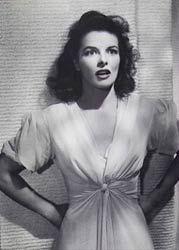 Katharine Hepburn died recently aged 96. No doubt this came as a surprise to her many fans who thought that she had time for one more Oscar nomination. For Katharine herself, it may have been something of a relief – as she once said to a journalist, 'I welcome death. I won't have to talk to you anymore!'
This quote is revealing. As it suggests, Katharine was bold, outspoken, blunt and somewhat haughty. In the 1930s, when her acting career was in its infancy, these were shocking attributes in a woman. As a result, audiences shunned her performances at one point. Indeed, the 1938 film 'Bringing Up Baby', in which Katharine starred opposite Cary Grant, failed dismally, leading her to be labeled 'Box Office Poison.' Today, 'Bringing Up Baby' is regarded as a classic, and 'Box Office Poison' Katharine holds the record of four Oscars for Best Actress.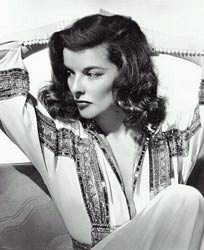 Katharine's character was doubtless a result of her upbringing. She was born in Hartford, Connecticut in 1907 into a wealthy and somewhat unconventional family. Her father was a doctor who educated people on venereal diseases and her mother was a suffragette (women did not get the vote in America until 1920). Her parents brought her up to speak her mind – and to fully develop it. She was educated at Bryn Mawr College, where she often appeared in school productions. After graduating, she began her acting career on Broadway, quickly becoming so popular that she attracted attention in Hollywood. She initially shunned this attention, saying that Hollywood was no place for her, as she was an actress! She was eventually swayed by a lucrative contract from RKO, and starred in her first film, 'A Bill of Divorcement', in 1932.
Katharine Hepburn was no relation to Audrey, and in fact is more closely associated with Eleanor Roosevelt. Eleanor was the wife of Franklin Delano Roosevelt, arguably America's greatest President, and shared Katharine's background and political views. She was the model for Katharine's character in 'The African Queen' (1951), and from then on Katharine came to be recognised as a sort of successor to Eleanor's role of First Lady. This gave rise to Katharine's nickname 'The First Lady of Cinema', which shows that she was loved as well as respected by the American people.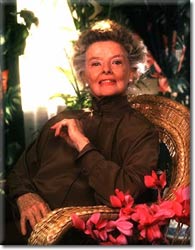 All her life she valued her privacy, rejecting the Hollywood cult of celebrity. During her career, she acted with some of Hollywood's most legendary figures, including Humphrey Bogart, Jimmy Stewart, Cary Grant, Laurence Olivier, Sidney Poitier and Liz Taylor.
However she had just one friend in Hollywood – Spencer Tracy, with whom she first acted in 'Woman of the Year' (1942). This film marked the start of one of America's most celebrated extra-marital affairs, as Tracy, a devout Catholic, refused to divorce his estranged wife. The relationship lasted until Tracy's death in 1967, shortly after he completed 'Guess Who's Coming to Dinner?' Katharine also starred in this film, and won the Oscar for Best Actress in 1968. She won three other Oscars for Best Actress – for 'Morning Glory' (1934) 'The Lion in Winter' (1969) and 'On Golden Pond' (1982).
She was nominated another eight times, but remained steadfastly unmoved by her success. 'I can't say I believe in prizes. I was a whiz in the three-legged race – that's something you CAN win.'
Join us soon for another Life Issues.